A Day in the Life of a GP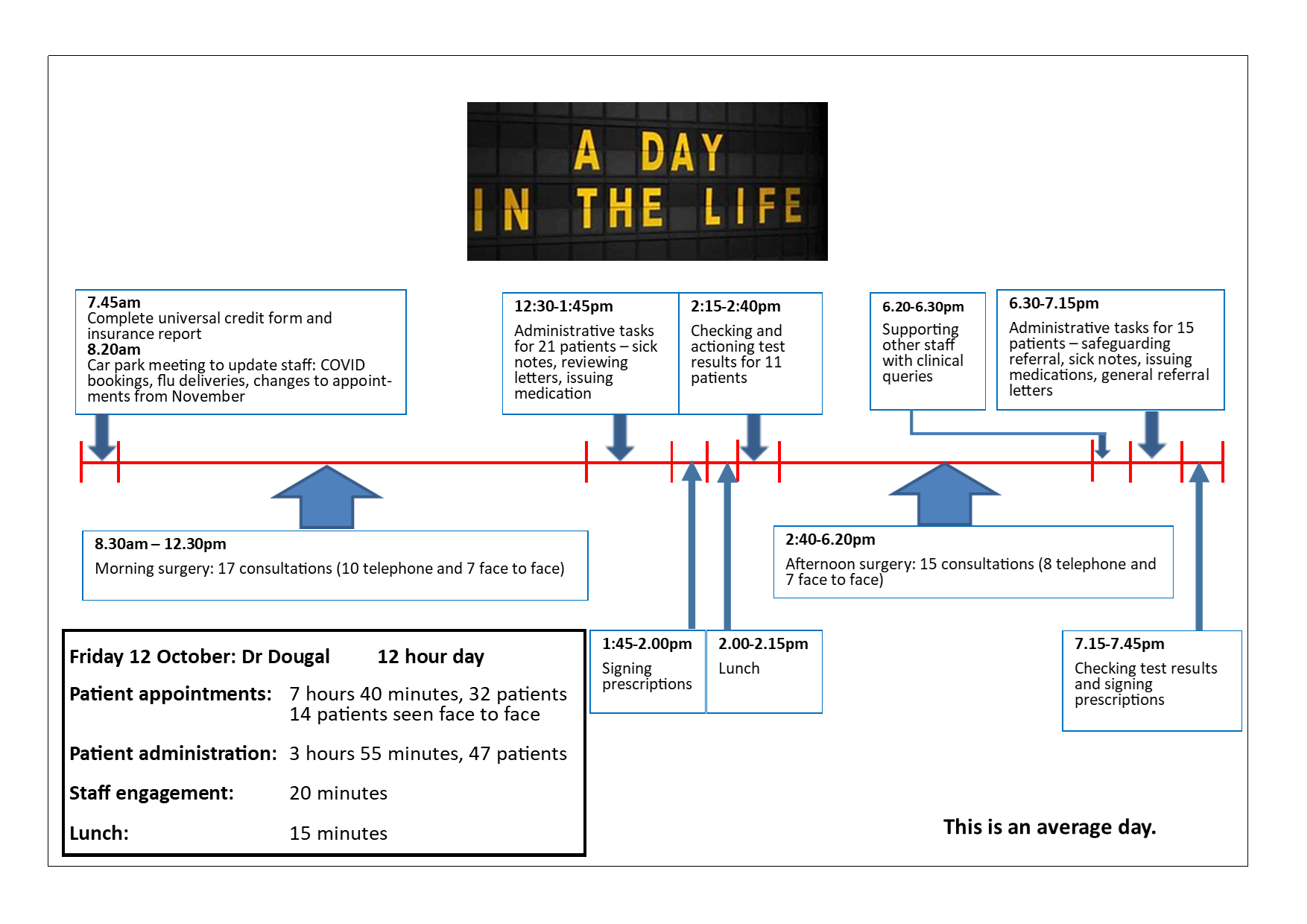 Every doctor, nurse and administrative member of the team at Stockbridge Surgery is working hard and doing their best to provide a high standard of care for our patients.
In the week beginning 1 November 2021, the surgery carried out 1,200 appointments compared with 799 for the same week in 2019 (a 50% increase).
On Monday 8 November 2021, 93 patients received urgent on the day care by our duty doctors. It was 56 for the same Monday in November 2019 (a 40% increase)
What has the COVID pandemic changed for general practice:
Every face to face appointment takes 2-3 minutes longer because we need to apply PPE, clean the room between each patient and we often have to meet patients in the car park rather than the waiting room.
Every day we get hundreds of COVID swab results in the practice - positive results require a consultation to assess whether we refer a patient to the home oxygen monitoring service.
Every day we get numerous queries about COVID vaccinationsabout safety and side effects and timings as well as logistical queries about how to book and COVID passports.
The Hospitals are struggling which impacts on General Practice - for example a patient who I refer may now take 9 months to see a consultant and therefore often requires a further 2 or 3 GP consultations to manage their condition whilst waiting for treatment by the hospital. Pre pandemic it would typically have been 1 consultation and they would have then been seen and treated by the hospital.
The government mandated every GP practice in the country to offer telephone consultations as a first contact at the start of the pandemic. This was done to help protect patients and staff and reduce the spread of the virus. Telephone first consulting was not something we had done at Stockbridge before the pandemic and both the doctors and patients have learnt how to get the best out of the system over the past 18 months. We have now evolved to a hybrid model where patients can choose to book either a telephone or direct face to face consultation for routine appointments.
Doctors and nurses need to self isolate – There are different rules for staff who work in the health service. If we have a household member with COVID we have to self-isolate unless it can be proved that doing so would impact clinical safety. Working from home is possible but only to a limited degree. This has had a significant impact on our workforce and often has led to clinics being cancelled and re-arranged at the last minute.
Delivering phase 1 and 2 of the COVID vaccination programme - The 1st 2 phases of the COVID vaccination programme that were delivered at the Holiday Inn were staffed by doctors and nurses from Stockbridge and the other 5 GP practices in our Primary Care Network.
Why are things not what they were 10-15 years ago?
Imagine if Amazon Prime tried to continue with its next day delivery service but was not able to increase the number of delivery drivers to cope with the increasing demand it has seen during the pandemic. The result would be it would not be able to offer the same next day service to all its customers as it would not be able to cope with the increased demand when it cannot increase its delivery drivers and factory workers. This analogy is the case for General Practice.
General Practice is funded by what is called a block contract. It is not a payment by activity contract. This means that a GP surgery has a set amount of funding every year based on the number of patients registered with the practice. Whether a patient has 1 appointment in the year or 10 times in the year the funding the practice receives does not change. This means increasing demand cannot be matched with increased staffing. The result is that the more demand on the system, sadly the longer the wait times will be.
This funding model has not changed in the past 20 years - however what has changed is increased life expectancy, increasing complex illness, increasing treatment options for illness, increased awareness and anxiety about illness resulting in desires to see a GP for a problem or symptoms that patients 15 years ago would not book a GP appointment about. There has also been a significant increase in bureaucracy.
We all work in General Practice because we care, and we want to help. The perception in the media and the belief of some patients that GPs are lazy is misguided. At the end of a 12-hour day to be portrayed as lazy is demoralising for healthcare professionals whose raison d'être is to care.
This information, alongside the 'day in the life of a GP' timeline has been put together in collaboration with our Patient Participation Group (PPG). Its aim is to be transparent with our patients and to explain the reality on the ground as to why things have changed and sadly why it can feel so difficult to get a GP appointment currently.